Missouri Ride Maps -

Page 4



This 73 mile ride takes you north out of Winona and loops around the Current
River Conservation Area, returning to Winona.
Current River Loop - 75 miles (Missouri)
This 60 mile ride takes you from Hartville to Houston, Missouri. It heads
northwest up thru portions of the Mark Twain National Forest. If you like a
ride with lots of twisties and sweeping curves then is is the ride for you
(especially sportbike riders).
Hartville to Houston - 60 miles (Missouri)
This 74 mile ride takes you from I-44 in Conway and loops around thru
Grovespring and Manes, before turning north into the Mark Twain National
Forest. Then returning to Lebanon.
Conway to Lebanon - 74 miles (Missouri)
This 98 mile ride picks up in Salem Missouri just south of Rolla. You'll travel
east through the senic Mark Twain National Forest, before turning northwest
toward Potosi. Then you'll switch back west towards Steelvile. The scenery
on this ride is some of the best in south central Missouri.
Salem to Steelville - 98 miles (Missouri)
This 114 mile ride offers on of the best curvy routes in Missouri. With almost
300 curves you will find this ride not only very scenic, but also exhilarating to
the senses.
The Ozark Hellbender - 114 miles (Missouri)
This 62 mile ride Starts at the small town of Brazito on Hwy 54, and takes in
some of the most scenic back roads that the northern Ozarks has to offer.
You'll cruise through the sleepy towns of Meta, St. Elizabeth and Brumley.
Osage River Ridge Run - 62 miles (Missouri)
This 58 mile ride is a great "after work" unwinder. Staying off the main roads
it will meander down rich farm land and over to Stockton Lake. If you don't
have a lot of time, then this may be just the ride for you.
Buffalo to Bona - 58 miles (Missouri)

Copyright

©

2023 - Ozark Rides, All Rights Reserved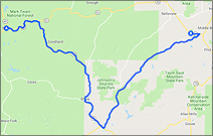 This 45 mile ride begins in the small hamlet of Bixby MO on State Hwy 32.
Once you turn south onto SH 49 you will find a great canopied winding road
that will thrill your senses.
Bixby to Elephant Rocks - 45 miles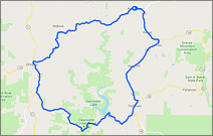 This 70 mile ride loops Clearwater Lake located in the area of the valley where
Iron & Reynolds county meet. Know for the grandeur of it's hills, natural
springs, and splendid beauty.
Clearwater Lake Loop - 70 miles
Enjoy the back roads of this ride that twist through the Mark Twain National
forest. The beginning of this ride SH A is wildly twisty, and a thrill to ride.
Current River to Lesterville - 49 miles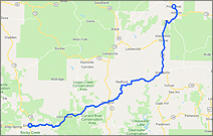 This 71 mile ride offers some great sweeping and scenic vistas to thrill the
senses. If you're heading to the valley from the southwest for the weekend
then this a great route.
Eminence to Pilot Knob - 71 miles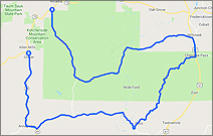 This 72 mile is in our estimation one of the best in the Ozarks. If you enjoy
canopied "Dragon" like roads, then this ride is your promise land.
Mill Creek - Saco Loop - 72 miles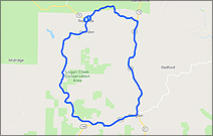 This 43 mile ride begins and ends in Reynolds MO, and loops the Logan Creek
Conservation Area which lies south of Black River and north of Current River.
Logan Creek Loop - 43 miles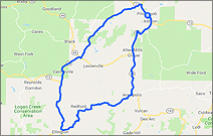 This 85 mile ride loops Taum Sauk Mountain (highest point in Missouri). When
you take this route you might try a short detour on CR CC and ride up to the
Taum Sauk Mtn. peak. (To reach the summit there is a short ride on a good
quality but dirt road).
Ironton - Ellington Loop - 85 miles




























* Missouri requires all riders UNDER THE AGE OF 26 to wear a DOT approved helmet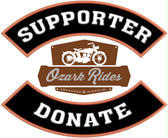 Get Access & Benefits!
Become a Patron!