Copyright

©

2023 - Ozark Rides, All Rights Reserved



From the twisty Ozark asphalt and rolling Ouachita Mountains
to the wide-open Mississippi Delta it is safe to say that Arkansas
was made for motorcycling. There are many reasons to explore
The Natural State on two—even three—wheels, but their
motorcycle-friendly attitude keeps me coming back. That, and
the sprawling mountain views, scenic open landscape, and of
course all the fresh air that country life here has to offer.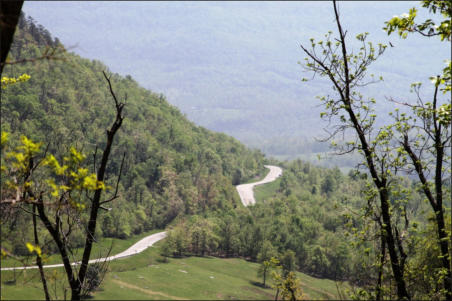 Arkansas is bubbling over with state parks—52 in all. And, I've
lost count of all the on and off pavement, moto specific routes
there are. Arkansas' Department of Parks and Tourism will give
you a head start with their free Arkansas Motorcycling Guide
produced annually, outlining various places to go, eat, see, and
explore.
Six years ago, if you had asked me which states were on my
motorcycle bucket list, Arkansas would not have been one of
them. As luck would have it, I've visited Arkansas many times
attending Kawasaki owner's group rallies and events as Brand
Ambassador and Editor of ROK™ joining VROC, VDOG, COG,
VBA and VRA at their events. With each visit the biker-friendly
cities and towns have beckoned me to return and explore the
Ozarks, sample the food, and enjoy its hospitality.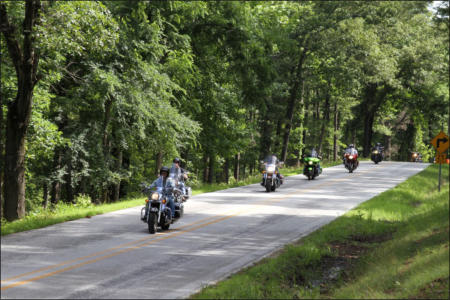 I first came here by accident, after volunteering to attend a
motorcycle rally. I wasn't really sure what to expect, yet I've
returned year after year. I even relocated to the north central
part of the state to be closer to these rallies, and do a little
exploring of my own. As a California native, I'm used to milder
temperatures and very little humidity. While the weather here
isn't what I'm accustomed to, it's a small price to pay for
admission to such a beautiful area boasting endless serpentine
tarmac with scenic views and little traffic. Deer are everywhere
though so watch out, and the squirrels, possum, raccoons,
ground hogs, dogs, cats, and armadillos have all crossed my
path many times. Did I mention turtles?
While there are numerous interesting routes to enjoy, many are
quite renowned. Highway 23 is a favorite, also known as The Pig
Trail Scenic Byway. And then there is Arkansas' Scenic Highway
7, the Talimena Scenic Byway and others that attract riders from
all over the country. I recommend visiting some of the State
Parks while you are here too. What better places to stay than
these often historical and always fascinating structures among
Arkansas' magnificent natural surroundings. Many were built by
the Civilian Conservation Corps during the 1930s under president
Franklin D. Roosevelt's New Deal, a plan to get Americans back
to work after the Great Depression. In fact, history lurks around
practically every turn, so you'll get an education while enjoying
your ride.
The locals wave too, so be sure and wave back. And if you're
lucky, you just might pick up a few colloquial expressions while
you are here, like 'holler,' 'heck,' 'fixin' to,' and 'y'all.' So what
are y'all waiting for? Grab a map, mark some spots and heck,
come on down here and ride!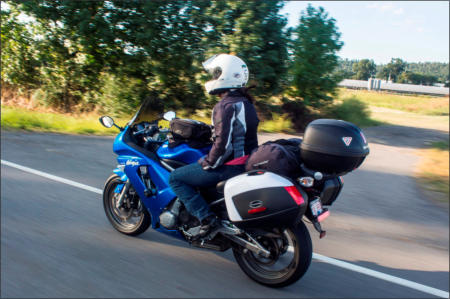 Here are my three favorite state
parks to visit in Arkansas:
Mount Magazine State Park
16878 Highway 309 South
Paris, AR 72855
877.665.6343
www.mountmagazinestatepark.com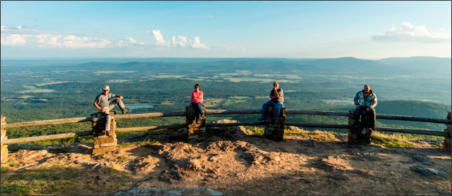 Mount Magazine State Park is located on Scenic Highway 309,
approximately 10 miles south of Paris (not the Paris you may be
thinking of). Mount Magazine is Arkansas' highest point at
2,753-feet. Its rugged terrain is rich in natural resources,
including some
endangered species. What makes this park stand out from the
rest is its majestic views. From the lodge at Mount Magazine, you
can take in sweeping views of natural beauty while gazing out at
the Petit Jean River valley to the south, and the Arkansas River to
the north. The accommodations at Mount Magazine are top-notch,
and there is much to offer a weary traveler. There is also an
onsite restaurant providing tasty meals that satisfy even the
pickiest of eaters with many different selections of pie for
desert—yes, pie! There is also a pool—a big plus for me when
traveling. Plus, the ride up to the park isn't bad either. Some
have referred to Mount Magazine as the Scenic Byway to the
island in the sky. Watch out when making that left turn onto
Scenic Hwy. 309 as it has snuck up on me twice and had me
riding onto the grassy shoulder.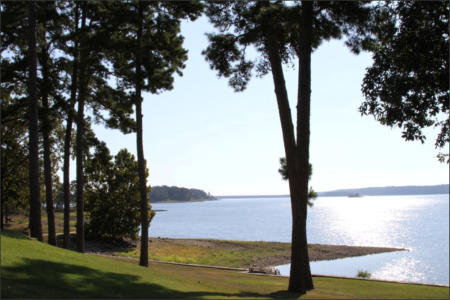 DeGray Lake Resort State Park
2027 State Park Entrance Road
Bismarck, AR 71929
800.737.8355
www.degray.com
What's not to like about DeGray Lake Resort? It is a year-round
destination for motorcyclists, golfers, and nature lovers. The
biggest challenge I had was a lack of time to properly enjoy all
that this beautiful resort has to offer. Be sure to factor in plenty
of time to do some off-the-bike exploring too. The onsite
restaurant here is excellent and the views from the property are
quite relaxing. Plus, there is a pool, but there's also the
lake—you decide. The roads that lead to DeGray provide plenty
of twisty entertainment and challenges for even the most
experienced rider. One note here is to limit your night riding as
there are wildlife lurking.
Ozark Folk Center State Park
1032 Park Avenue
Mountain View, AR 72560
800.264.3655
www.ozarkfolkcenter.com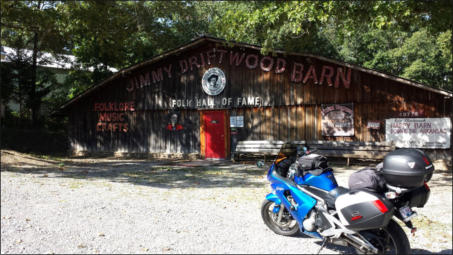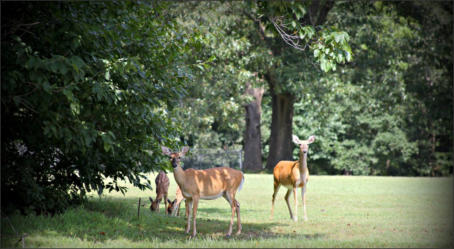 The Ozark Folk Center is best known for its annual Folk Festivals,
and is devoted to the preservation of Southern mountain crafts
and folk music. It is America's only facility that works at sharing
the Ozark Heritage, drawing international visitors here, as well
as those from other parts of the country. I highly recommend
carving some time out to explore the craft park. It offers
demonstrations by a blacksmith, and goods made by
woodcarvers, quilters, broom makers, potters, and stained
glass makers, and numerous other craftspeople. Free concerts
featuring songs and instruments from America's past are
provided throughout the season. These concerts are not to be
missed. This is a seasonal park, so check the website before
heading there. This state park served as rally central for the
Vulcan Bagger Association's Rally in the Ozarks in 2014. For
those not familiar with the area, Mountain View is nestled in the
southern part of the Ozarks and is roughly 125 miles from the
popular tourist town of Eureka Springs. Mountain View makes
a good jumping off point for a variety of rides and it's near the
infamous Push Mountain Road—50 miles of serpentine tarmac
teasing riders with its hairpin turns, twisty roads and wide-open
sweepers. A couple of fun routes from here include a run into
Eureka Springs, Peel Ferry, and Jasper along Arkansas' Scenic 7.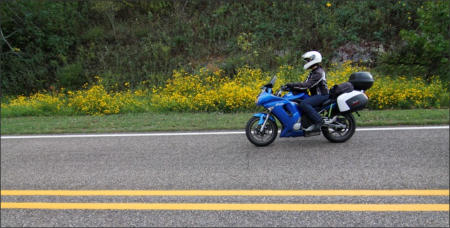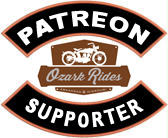 Get Access & Benefits!
Become a Patron!